Looking Back to 2007


Looking Back to 2005


Nebraska State Fair
Lincoln, Nebraska



Looking Back to 2004

Galaxy of Stars Talent Search Preliminary Competition Winners
ADAMS COUNTY FAIR - HASTINGS

HILLTOP MALL - KEARNEY

PLATTE RIVER MALL - NORTH PLATTE

CONESTOGA MALL - GRAND ISLAND

IMPERIAL MALL - HASTINGS

Buffalo County Fair
Galaxy of Stars Talent Search Finals

Over 600 people attended the Galaxy of Stars Talent Search Finals Thursday, August 5th from 5-7 during the free BBQ at the Buffalo County Fairgrounds in Kearney. Twenty-Three Contestants who were chosen from preliminary contests across the state of Nebraska this summer competed for over $2,500 in prizes, recording sessions and airfare to their choice of American Idol, Nashville Star or TBN's Christian Star Search.

The overall winner receiving a full day of recording at Upper Room Studio in Kearney was eleven-year-old Ashton Jackson, daughter of Chris and Amy Jackson of Kearney.

Aston sang "Cowboy Sweetheart" and had the crowd clapping along with the song. Her inspiration is Leann Rimes and her most exciting moment was when she met country recording artist Pat Green this year as she was featured in the Galaxy of Stars showcase opening for Pat at the Adams County Fair. Her plans for the future are to become a country recording artist and go to college.

Each of the first place winners received a half-day recording session at Upper Room Studios in Kearney. First and Second Place winners received a mirrored plaque courtesy of Laser Art Design in Kearney. All finalists received a portrait courtesy of Jensen Photography in Kearney.




Looking Back to 2003

Galaxy of Starts Talent Search Finals
Wednesday, July 23, 2003
Adams County Fair, Hastings, Nebraska
The Adams County Fair hosted the finals of the Galaxy of Stars Talent Search, Wednesday, July 23rd at 7:00 with an audience of 700 preceding the Jaci Valesquez Concert and patriotic finale by
Tommy Watt
&
Wynne Adams
.
Sixteen finalists from Nebraska and Kansas competed for the $1000 recording session and the chance to compete in the preliminary competition of American Idol. the Galaxy of Stars finalists were chose from over 175 entrants in preliminaries held at the malls of Kearney, Hastings, Grand Island, North Platte, and the Tri-City Arena.
Wynne Adams, Director of the Galaxy of Stars Talent Search, shares that the concept is to advance and promote aspiring performers to showcase and grow their talents while providing exposure, experience and awards with support and assistance to take the next step towards realizing their dreams.
Contestants were
judged on Vocal Ability, Stage Presence and Star Quality and competed in 3 age divisions:
COMETS 12 and Under, SHOOTING STARS 13-18 & NOVAS 19 and Up.
2003 FINALISTS
Sixteen Finalists competed for Prizes, Recording Sessions
& Airfare to further compete in the American Idol Preliminary Competition.
COMETS - 12 & UNDER
SHOOTING STARS - 13 to 18
NOVAS - 19 & Up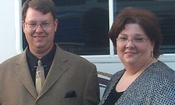 Shannon & Pam Ahlman
Grand Island, NE

​2003 WINNERS
2003 MEGA STAR
"Overall Grand Champion" - Maria Lozoya
Maria Lozoya - Grand Island, NE
Vocal - "I Will Always Love You"


COMETS


NOVAS

Interview After the Event
$1000.00 Recording Session from Upper Room Studios
in Kearney & Airfare, courtesy of Vision Productions, Inc,
to Preliminary Round of American Idol.


SHOOTING STARS

First Place
Maria Lozoya
Grand Island, NE

Second Place
Amy Heideman
Seward, NE

GROUP AWARD



First Place
Shannon & Pam Ahlman
Grand Island, NE
ALL FIRST PLACE WINNERS RECEIVED $250.00 RECORDING SESSIONS