Galaxy Star News is all about the Galaxy of Stars Talent Search Contestants & the Galaxy of Stars Songwriters.
Let us know what you are doing. We welcome your photos and news stories!
Justin Kane
justinkane.us
Directed by: Wynne Adams and Lance Goodman; Filmed by: Lance Goodman; Written by: Eric Durrance/Wilson Dean; Drive It Publishing (BMI); Wynnestar Music (BMI); Record Label: Wynnesong Records.
"Cowgirl Crazy" is an uplifting, good time, girls' night out on the town song!
It's all about going out and having a great time without worrying about the drama that can sometimes come with meeting guys. A carefree, feel good song about letting the worries of the day just melt away while hanging out with your friends, because no matter what you do during the daytime, all girls have a little fun-loving time in them and in their own way get a little "Cowgirl Crazy." This song says that it's perfectly ok to be happy with who you are and don't let the haters bother you. It's time to kick up your boots, dance till you drop and let the good times roll!
"Cowgirl Crazy" Available on iTunes Soon!


​NAFM - Nebraska Association of Fair Managers Convention
January 19-20, 2018 - Ramanda Inn - Kearney, Nebraska
I always look forward to going to Nebraska to reconnect with artists, agents, fair boards and the volunteers for the county fairs. This year I was again the show producer and MC, and I showcased Lexi Larsen and her Nashville band. Lexi was a part of the Galaxy of Stars Talent Search when she was only 13 years and now lives in Nashville where she is pursuing a music career.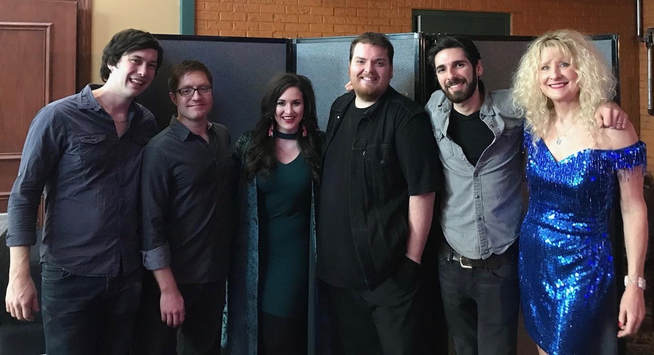 Lexi showcased with her Nashville Band


​Also showcasing on stage at the convention
were past Galaxy of Stars Entertainers:

2004 Contestant Russ Brown

2006 Mega Star Blake Marvin

2008 Mega Star Jessy Karr.

RUSS BROWN & SOUTHERN FRYED
| | |
| --- | --- |
| BLAKE MARVIN & TWO WAY CROSSING | JESSY KARR & BAND |
​Amanda Winter
Galaxy of Stars Talent Search 2010 Mega Star Amanda Winter EP Release Concert
December 4, 2017 at The Studio Nashville.
amandawintermusic.com